ISSN: 2424-8428 (Print)

Article Processing Charges (APC): Click here for more details

Publishing Model: Open Access

Journal no: 5P

Advances in Higher Education is a fully accessible publication that serves as the medium to publish the original educational research article that focusing on teaching, learning and educational developments throughout the world in universities, polytechnics, colleges, and vocational and education institutions which despite public and private higher education sectors. It aims to serve as a debate forum for a diverse group of scholar who share the characteristic features, as well as problems and issue of each education system, and who can have significant voice in discussion around topics of higher education. The content will focus on the field of educational theory, student management, teaching method, conceptual model of educational process and cases study.

The article categories within the journal include (but are not limited to) the following fields:

Critical Thinking
Learning Theory and Processes
Theory Practice Relationship
Teacher Education
Curriculum
Recruitment
Campus Climate
Academic Culture
Languages
Persistence motivation

Vol 3, No 2 (In Publishing)
Table of Contents
Conflict-of-Interest
Conflict of interest can be either financial or non-financial. Authors submitting to USP journals are required to declare if they have any conflict of interest which may result in the data written in their article to be influenced by any personal or financial relationship with other people or organizations.
Financial Conflict of Interest include (but not limited to):
Receiving reimbursements, fees, funding, or salary from an organization that may in any way gain or lose financially from the publication of the article, either now or in the future.
Holding stocks or shares in an organization that may in any way gain or lose financially from the publication of the article, either now or in the future.
Holding, or currently applying for, patents relating to the content of the manuscript.
Receiving reimbursements, fees, funding, or salary from an organization that holds or has applied for patents relating to the
Statement of Informed Consent
All papers submitted to our Journal should declare agreement with the following 'statement of informed consent'. Any paper lacking it will not be considered for publication. When informed consent has been obtained, it should be indicated in the published article.
Patients have a right to privacy that should not be infringed without informed consent. All information which could contribute to identify patients, including patients' names, initials, or hospital numbers, should not be published in written descriptions, photographs, etc., unless the information is essential for scientific purposes and the patient (or parent or guardian) gives explicit written informed consent for publication. For this purpose the manuscript should be shown to the patient before publication and specific and explicit informed consent should be obtained. Furthermore, individuals who provide writing assistance should be identified by the authors, and they must disclose the funding source for this assistance.
Identifying details should be omitted if they are not essential. However, since complete anonymity is difficult to achieve, informed consent should be obtained from each patient involved, if there is any doubt. If identifying characteristics are altered to protect anonymity, such as in genetic pedigrees, authors should provide assurance that alterations do not distort scientific meaning, and editors will note that.
Nonessential identifying details should be omitted. Informed consent should be obtained if there is any doubt that anonymity can be maintained. For example, masking the eye region in photographs of patients is inadequate protection of anonymity. If identifying characteristics are de-identified, authors should provide assurance that alterations do not distort scientific meaning, and editors will note that.
Plagiarism
USP does not approve any form of plagiarism used in submitted manuscript. All manuscripts submitted to USP journals will be checked for plagiarism by our managing editor before being passed to the Editor-in-Chief. Any manuscripts found to be in violation of plagiarism will be rejected by our managing editor.
Authorship
List those that have made significant contribution to the reported study as co-authors, and for others who have participated in certain aspects to be listed or acknowledged as contributors in their study. The corresponding author has to ensure that all co-authors have seen and approved the final version of the paper, and agree to its submission for publication.
Article Processing Charge (APC)
Like most other gold open-access journals, USP journals maintains our high quality of service through an 'author-pay' model. The scientific community and the general public have, for free, unlimited and immediate access to all content published in our journals as soon as it is published on the Internet. As such, manuscripts that are accepted for publication following peer review may incur a article processing charge (APC). Payment of this charge allows Universe Scientific Publishing to offset peer review management, journal production and online hosting and archiving. In addition, overall publication charges also will be used to provide fee waivers for authors from lesser developed countries (see below).
Universe Scientific Publishing is committed to keeping its open access publication charges at a minimum level. There are no hidden costs at our journals. There is no additional charge for colour figures. Published articles appear electronically and are freely available from our website. Authors may also use their published articles for any non-commercial use on their personal or non-commercial institution's website.
The exact value of article processing charges for each journal is given in the table below. The APC covers editorial services and production of an article. Upon acceptance for publication a processing fee will be payable. Owing to fluctuations in foreign exchange rates fees may occasionally be subject to change without notice.
| USP Journals | Article Processing Charge |
| --- | --- |
| Advances in Higher Education | US$ 800 |
Copyright Notice
Authors submitting to USP journals agree to publish their manuscript under the Creative Commons Attribution-NonCommercial 4.0 International License (CC BY-NC 4.0) where authors agree to allow third parties to share their work (copy, distribute, transmit) and to adapt it, under the condition that the authors are given credit, and that in the event of reuse or distribution, the terms of this license are made clear
Authors retain copyright of their work, with first publication rights (online and print) granted to Universe Scientific Publishing or the owner of the journal in question.
Privacy Statement
The names and email addresses entered in this journal site will be used exclusively for the stated purposes of this journal and will not be made available for any other purpose or to any other party.
Focus and Scope
Advances in Higher Education is a fully accessible publication that serves as the medium to publish the original educational research article that focusing on teaching, learning and educational developments throughout the world in universities, polytechnics, colleges, and vocational and education institutions which despite public and private higher education sectors. It aims to serve as a debate forum for a diverse group of scholar who share the characteristic features, as well as problems and issue of each education system, and who can have significant voice in discussion around topics of higher education. The content will focus on the field of educational theory, student management, teaching method, conceptual model of educational process and cases study.
The article categories within the journal include (but are not limited to) the following fields:
Critical Thinking

Learning Theory and Processes
Theory Practice Relationship
Teacher Education
Curriculum
Recruitment
Campus Climate
Academic Culture
Languages
Persistence motivations
Peer Review Process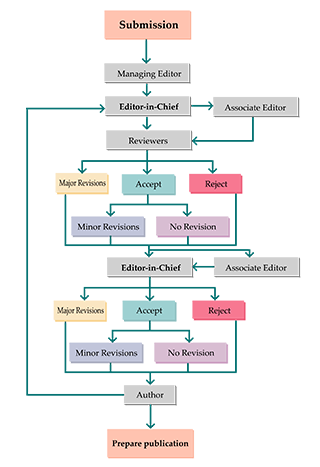 All manuscripts submitted to USP journals undergo a rigorous peer review process, in which most of our peer reviews are single blind (unless stated otherwise).
All submitted manuscript are firstly handled by our managing editor, who will check the manuscript for plagiarism, in which rejection of the manuscript can take place at this stage by the managing editor if plagiarism occurs in the manuscript.
After the plagiarism check is completed and results are deemed satisfactory, the managing editor will pass the manuscript to the Editor-in-Chief who will undertake the peer review process, or at times pass the task to one of the Associate Editor.
A minimum of 2 reviewers will be selected from the pool of reviewers available according to their expertise and suitability to the subject matter of the manuscript. Reviewers will have to give their comments and recommendations (Accept, Major Revisions, Reject) to the Editor-in-Chief or Associate Editor for them to make a final decision on the paper, and their comments will help the authors improve their papers.
Upon recommendations by the reviewers, the Editor-in-Chief or the Associate Editor can make a final decision on the paper and inform the author on their decision, adding comments to the Authors to make improvements in their research or paper.
Typically there are 3 main decisions in the peer review process – Accept, Major Revisions or Reject. If the Editor-in-Chief accepts the paper, it could be split into Minor revisions (author to make minor amendments to the paper) or No revisions (no amendments required by author), after which the paper can be sent to the Editing stage.
If the decision is a Major Revision, the authors are required to make the changes as suggested in the comments accordingly and the paper will be resubmitted for a second (or third) round of review. If the decision is to Reject the manuscript, the author will be notified and the rejected manuscript will be archived and the peer review process ends.
An accepted paper will be sent for Copy Editing, Layout Editing and Proofreading before publication of the paper. Correspondence between the authors and USP will be required here in order to improve the language and/or look of the manuscript. After the Editing stage is completed, authors are required to check the PDF file of the final version before the article is published. USP registers DOI for the manuscript before publishing it on our site, in which the article is immediately accessible to the public.
Open Access Policy
Advances in Higher Education provides immediate Gold Open Access to its content as it believes that making research freely available to the public helps promote the research results and in turn benefits the scholarly community.
Higher Visibility, Availability and Citations – free and unlimited accessibility of the publication over the internet without any restrictions increases citation of the article
Ease of search – publications are easily searchable in search engines and indexing databases
Rapid Publication – accepted papers are immediately published online
Announcements
Journal's announcement:
To further expand the readership and accelerate the development of this journal, the publisher's committees decided to jointly organize a Chinese version
Posted: 2018-12-29 More...
News: WATCH: DA students protest about class disturbances at TUT
DA member of parliament Bronwyn Engelbrecht led a student protest by DA Student Organisation (Daso) to the Department of Higher Education and Training. 
The students sought to convince Minister Naledi Pandor and her office to intervene and help bring about peace at the Tshwane University of Technology's Soshanguve campus. 
Engelbrecht said DA students have been trying to get classes to resume but the EFF Student Command and South African Student Congress have been disrupting classes. 
She said: Daso notes the tragic shooting of a student following the exposure of irregularities by officials.
Posted: 2018-09-12
News: Australia's biggest university, Monash, is pulling out of South Africa after 18 years
After 18 years, Australia's Monash University will be pulling out of South Africa, selling out to JSE-listed education group Advtech in a R340 million deal.
Monash South Africa was registered in 2000, and markets itself as a local provider of degrees with international brand recognition. Its Johannesburg campus has a capacity of 6,500 students and features a number of student residences, popular among students from other African countries.
But the Monash name will disappear from that campus, its soon-to-be new owners say.
Posted: 2018-09-12
---