Announcements
Research News: Sea Shepherd Adds New Vessel to Vaquita Campaign
The environmental organization Sea Shepherd has received a vessel donation from philanthropist Benoit Vulliet which will be used in the organization's campaign to save the most endangered marine mammal in the world, the vaquita porpoise.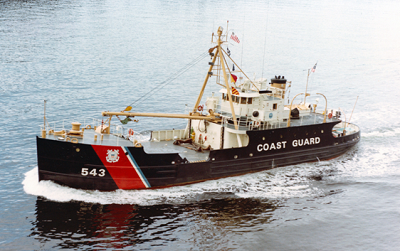 The vessel is former U.S. Coast Guard Buoy Tender White Holly. The vessel was built at Basalt Ship Building in 1944 and served in World War II in Pearl Harbor delivering ammunition to naval vessels. She was acquired by the Coast Guard in 1946 and served until the 1970's protecting the Alaskan coastline. The vessel was later transferred to Mississippi as a Buoy Tender to restore aids to navigation damaged by hurricanes until her retirement from the Coast Guard in 1998. Sea Shepherd also operates three former U.S. Coast Guard Island Class Cutters currently engaged in marine conservation and anti-poaching operations.
Posted: 2018-09-12
Research News: Humane Society International Slams Whaling Proposals
On the opening day of the 67th meeting of the International Whaling Commission, animal charity Humane Society International's team of experts at the meeting called on governments to reject Japan's proposal to set quotas for commercial whaling and urging welfare improvements for whales killed in aboriginal subsistence hunts.
Japan is seeking a consensus on its proposal to introduce an amendment that would directly nullify the moratorium on commercial whaling. To highlight the suffering this would cause, Humane Society International refers to data from Japan's "scientific" coastal whaling, between 2010 and 2015, in which Japan collected welfare data on 482 minke whales. Less than half of these died immediately on being hit by exploding harpoons and the surviving whales took an average of five minutes to die. Data collected on 575 sei whales during the same period showed that 50 percent did not die immediately and that surviving whales took an average of three minutes to die.
Whales not killed immediately are struck with cold (non-exploding) harpoons (banned for commercial whaling by the IWC in 1980), rifles and steel lances. Japan has not submitted welfare data to the IWC since 2006, and does not provide data on maximum times to death, though independent analysis of footage has shown that whales in Japan's Antarctic hunt have taken at least 33 minutes to die.
Posted: 2018-09-12
Research News: South Atlantic Whale Sanctuary Proposal Defeated
An attempt to establish a whale sanctuary in the South Atlantic at this week's International Whaling Commission meeting in Brazil has failed.
The proposal, which was first proposed in 1998 and has been discussed at previous IWC meetings, was introduced by the Government of Brazil and co-sponsored Argentina, Gabon and South Africa.
Wide-ranging discussions occurred with no decision reached, so a vote was taken. The result was 39 in favor and 25 against, with three abstentions. The required three-quarters majority was therefore not reached. Japan voted against the sanctuary, and, paradoxically, it was the Japanese delegation that had pushed for a rule change that would allow decisions to be made by simple majority instead of the current three-quarters majority. This would make it easier for Japan to gain a positive result for its plan to re-introduce sustainable whaling.
Posted: 2018-09-12